Bespoke Cosmetic Training in London
When you initially book your place on one of our PHI College cosmetic training days, our delegate liaison manager will ask you a few questions about what you would like to see on the course. This allows us to create a day that is bespoke to the needs of our candidates, covering the top three areas that you highlight that you want to work on.
We do request that candidates provide their own models to guarantee you always get to treat the exact indications you highlight. If this poses a problem, we are more than happy to help you locate a model, but you should be aware that you may not be able to treat your desired areas.
Accredited Aesthetic Courses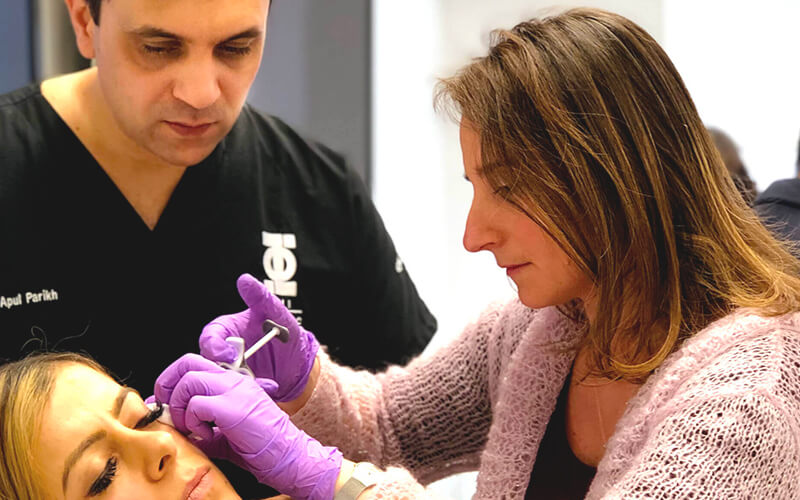 PHI College training days cover a range of theoretical and practical sessions, led by Dr Tapan and his esteemed colleagues, as well as a Q&A and networking opportunity to finish off the day.
Theory – using the eMASTR platform as well as his own personally curated and created resources, Dr Tapan leads a series of lectures in the morning session of the training day, covering specific indications and anatomy of the areas highlighted by each delegate.
Practice – the practical session is usually held in the afternoon, and involves putting learned techniques into action with live models under the direct supervision of Dr Tapan and his hand selected team of highly trained doctors.
We pride ourselves on maintaining high trainer to delegate ratios, with no more than 3 delegates for every trainer to ensure that every attendee has the chance to benefit from one to one time with a skilled, experienced practitioner.
Online Aesthetic Learning Resources?
Prior to attending the course, we are often asked whether delegates need to do anything in preparation. We always recommend brushing up on anatomy, especially in the specific areas you want to treat, so the knowledge is fresh in your mind ready for the course.
eMASTR provides the perfect companion resource for this, with a series of animations and cadaver dissection covering regional anatomy of the face.
Book your cosmetic training course now, or get in touch with a delegate liaison manager to learn more by filling in our contact form.
< Back To Blog