Juvederm Products
Known for their longevity and malleability, Juvederm dermal filler treatments have been performed over 32 million times worldwide. These fillers are specially formulated to cause minimal swelling and contain Lidocaine to reduce any discomfort for the patient. 97% of practitioners surveyed regarding Juvederm said that it improved the aesthetic effect immediately following treatment, with results lasting for up to 24 months. Dr Tapan exclusively uses Juvederm products within his private practice, PHI Clinic, where PHI College is situated.
Dermal Filler Application
While regulations surrounding the administration of dermal fillers are lax in the UK in comparison to other countries, the general consensus of the medical community here is that only qualified medical professionals should be allowed to practice and provide these treatments.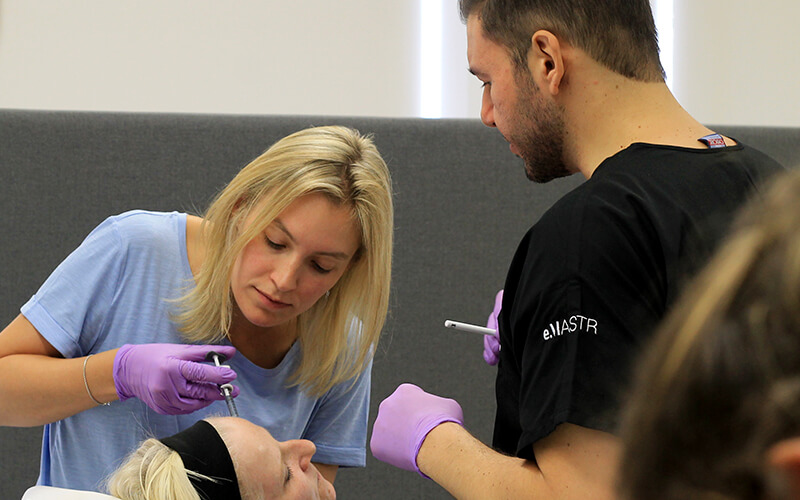 We wholeheartedly agree with this, and therefore only offer spaces on our Juvederm training days to trained doctors, dentists, surgeons, and nurses. PHI College supports the push to regulate non-surgical interventions like dermal fillers throughout the country, to ensure high patient safety and happiness levels across the board.
Juvederm Training
Combining theoretical and practical training elements, PHI College uses resources from eMASTR, our online training partner, to supplement vital learning experiences. With high numbers of trainers, every delegate gets direct supervision from a highly experienced professional when injecting live models in the practical session of the day.
These intimate masterclasses provide a rich educational experience in injecting Juvederm with a key opinion leader who is considered among the best in the world at applying these products.
Book Your Place
Due to our commitment to a high trainer to delegate ratio, spaces on PHI College courses are limited, and as such we recommend booking early to avoid disappointment. You can do this by heading to our courses page, or learn more by filling in our contact form.
Follow us on social media to keep up with what's going on here at PHI College!
< Back To Blog