We always suggest that there is no right answer and that whichever option you choose should be as a result of extensive practice and finding the method that suits you and your patients for the best results.
Having a good grasp of both techniques and knowing when to employ them is vital for continuously high patient satisfaction all round.
Cannula For Lip Filler Courses
While we don't do specific cannula for lip filler training courses, we do offer a tailored experience, taking into account the indications you want to treat to create a day that suits every delegate who trains with us.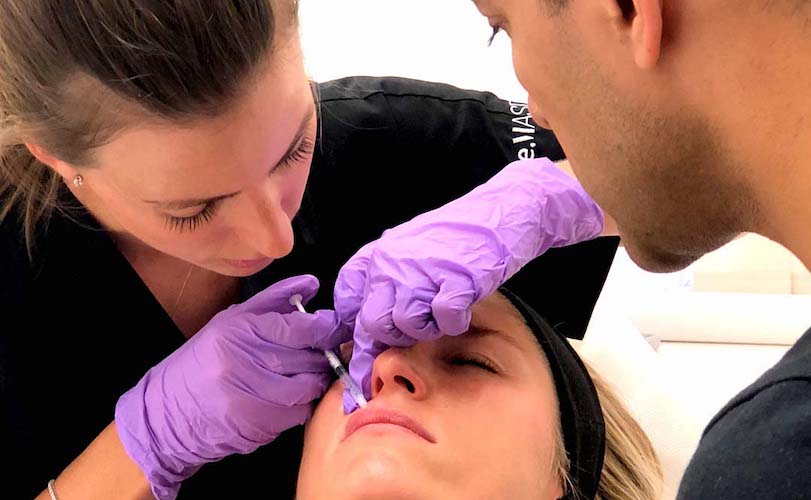 When you book onto a lip filler training day, we will take your preferences for treatment, which then helps us create a day that fits your needs.
High Quality Aesthetic Training
We pride ourselves on a high delegate to trainer ratio for our dermal filler training days, with a maximum of 3 delegates to every 1 practitioner. This guarantees that you will get one on one time with Dr Tapan and his team throughout the day in an intimate setting here at the clinic.
Cannula For Lip Filler Models
We ask that those who attend our courses arrange their own models in order to ensure that you are able to perform the exact treatment you want.
If you are unable to do so, we can help with finding a model, but you should be prepared that they may have a different indication than the one you want to treat. If you are unsure about your model, you are welcome to send pictures to our delegate liaison team, who can assess them and confirm they are suitable for treatment.
Book Aesthetic Training Now
Find out more about our training courses, or book your place to learn cannula for lip filler techniques by heading to our courses page. If you have any questions, you can also get in touch by filling in our contact form and one of our delegate liaison managers will get in touch at your convenience via email or phone.
You can also follow us on social media to keep up to date with what's going on here at PHI College.
< Back To Blog