The 2018 study, performed by an independent poll service on behalf of RealSelf, surveyed 1030 adults in the UK, 862 of whom had had cosmetic treatments or were considering having them within the following 12 months. Of the respondents, 24% said they were considering dermal fillers and 18% said they were considering Botox or similar toxins.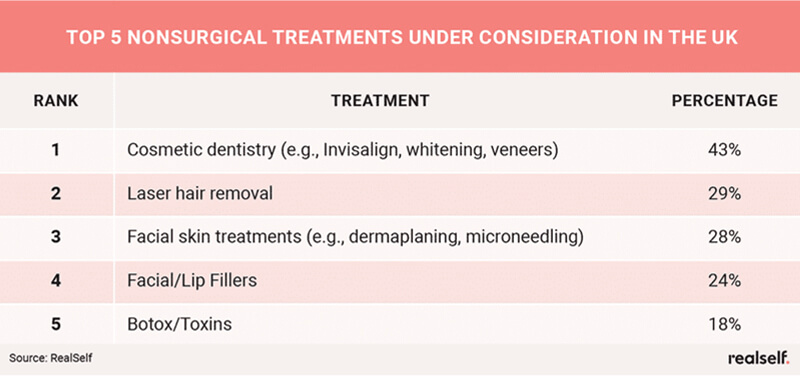 We can also look to American statistics for information about trends. According to data from the American Society of Plastic Surgeons (ASPS) millennials, now aged around 24 to 39, are more likely to start seeking cosmetic treatments at an earlier age, with Botox procedures experiencing a 28% increase and dermal fillers a 32% increase within this age range since 2010.
While previous generations have turned to Botox and dermal fillers to correct damage, it appears that millennials are more interested in preventing it, using injectables to maintain seemingly ageless skin, rather than 'fixing' lines and wrinkles after they have appeared. This pre-emptive approach has seen more and more young men and women having treatments to extend their youthful appearance.
Millennials Aesthetic Procedures
As practitioners, it is important to be aware of trends in order to safely and effectively treat patients. While millennials are increasingly using injectable treatments, they are not looking for the same effects as other generations have previously, favouring 'Baby Botox' and other subtle augmentations with dermal filler that enhance the appearance without distorting it or appearing 'fake'.
We believe that these medical treatments should only ever be provided by those who have the knowledge to be able to perform them safely, and know how to deal with complications should they arise. Accordingly, our courses are only open to medically trained professionals, like doctors, dentists, nurses, and surgeons. Join us for an injectables masterclass at PHI College in the centre of Harley Street on one of our upcoming dates; head to our courses page to take a look at our 2021 offerings now.
You can also follow us on social media to keep up to date with what's going on here at PHI College, or get in touch via our contact form for more information about any of our training opportunities.
< Back To Blog