The benefits of live model injectable training include:
Consultation practice
As well as performing treatments on real patients, the advantage of live model injectable training is that you can refine your consultation technique. Consultation tips can also be found on Dr Tapan's online learning resource, eMASTR, as well as a host of videos detailing good and poor practice, including a discussion of red flags that you should watch out for when initially meeting a patient. This can be found in the Practice Matters section of the platform.
Assessment
Every practitioner will assess the face in a different way, and PHI College courses offer techniques to refine this assessment. Our key learning aim is to ensure that all practitioners are assessing in a similar, thorough way to ensure that every patient benefits from successful, effective results.
Focused application on your desired indications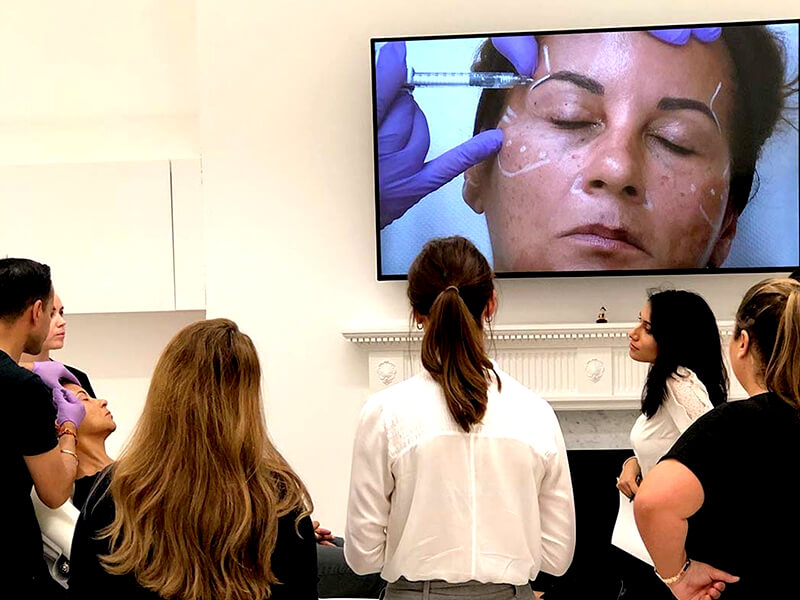 Our masterclasses revolve around the attending delegates – when you book your place on bespoke PHI College courses, you will be asked which areas of injecting you would like to focus on, which then informs the structure of the day. We ask that delegates provide their own models in order to be able to treat the highlighted desired indications, but we can provide help if this is not possible. We also have a range of dermal filler training options that provide focussed learning on different facial areas in our courses.
Injectable treatment results
Just like when you have a real patient in your clinic, live models provide real results that can be seen while injecting, especially for dermal fillers, but also over time. This is unlike silicone models or cadaveric material, as results develop and can be tracked by delegates following the training day.
We feel that the best way to learn is always to practice. Our live model injectable training days provide extensive hands-on experience on models in a working clinical environment, directly supervised by Dr Tapan and his hand-picked team. To book your place on a PHI College training course, you can contact our delegate liaison manager on info@phicollege.com.
< Back To Blog