PHI College offers comprehensive training days for surgeons, doctors, registered nurses, and dentists in the application of dermal fillers and botulinum toxin to high standards, with CPD accreditation. Each course provides 8 CPD points and a fetching PHI College certificate upon successful completion.
Botox And Filler Training Courses With Leading Professionals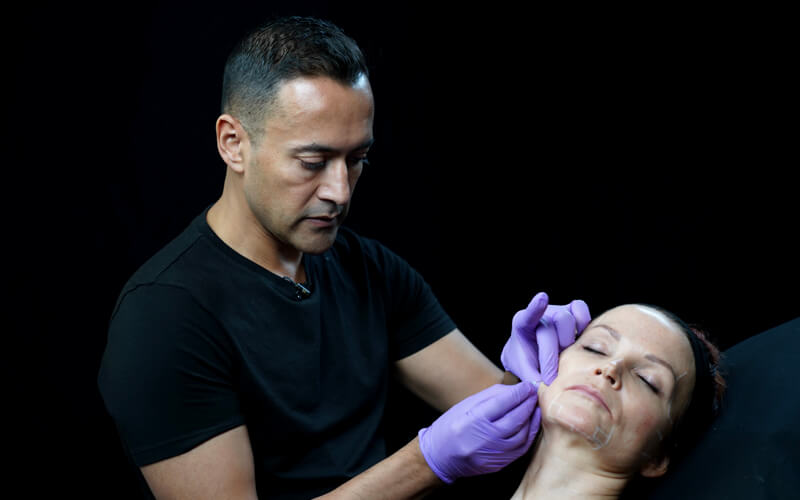 Dr Tapan is a leader in the field of injectables, and teaches with other exemplary practitioners to small classes, allowing for a high trainer to delegate ratio – meaning that you will have facetime with him and his team, guaranteed. Continued professional development is vital within the medical industry, both for patient safety and running a successful practice with regularly updated treatment methods. Botox and filler training courses at PHI College provide a great opportunity for intermediate-level injectors to refine their skills, supervised by leading professionals in an excellent setting.
Botox Training In London
Botox courses are tailored to your needs, allowing you to focus on the areas you choose to ensure you can get the most out of the day. Indications Dr Tapan will treat with Botox include frown lines, forehead lines, crow's feet, bunny lines, gummy smile, lip lines, cobblestone chin, wide jaw, and more. We do ask that, while we can arrange a model for you, you provide your own model for the day, to ensure that you will be able to treat your ideal indication.
Dermal Fillers Practical Training With Dr Tapan
Combining an artistic eye with over 17 years' of cosmetic experience, Dr Tapan performs dermal filler treatments that use subtle applications of product to transform the appearance of the face. Areas treated within this course include the cheek and mid-face, chin, tear trough, nose, lips, and more, with new techniques introduced regularly as the doctor learns them himself through his travels worldwide with other practitioners.
Find Out More
Book your place on one of our Botox and filler training courses or learn more by heading to our courses page now. For more information, you can get in touch with us by filling in our contact form and one of our delegate liaison managers will get back to you. Follow us on social media to learn more or find out what's going on here at PHI College!
< Back To Blog